Equipment Rentals
Each project is unique with different requirements. We maintain a small but growing stock of gear that we regularily deploy, and subcontract the rest to ensure the right gear for each job. The equipment listed is available for rent, and if you are looking for something that is not listed, please contact us directly and we can locate and secure it for you.
Cameras, Lenses & Accessories
ARRI AMIRA Premium w/UHD & Look Library
The ARRI AMIRA is a versatile documentary-style camera that combines exceptional image quality and affordable CFast 2.0 workflows with an ergonomic design optimized for single-operator use and extended shoulder-mounted operation. Ready to pick up and shoot straight out of the camera bag, AMIRA is hardy enough to take anywhere and features in-camera grading with preloaded 3D LUTs, as well as 200 fps slow motion. It is suitable for a great variety of production types, from reportage and corporate films to TV drama and lower-budget movies. Available with PL, EF or B4 mounts.
Canon Cine-Servo 17-120mm PL Mount Lens
The CINE-SERVO 17-120mm T2.95-3.9 lens provides cinematographers and broadcast operations with a compact, lightweight design (only 6.4 lbs.) using Canon optical elements, while offering outstanding performance and reliability in professional shooting environments.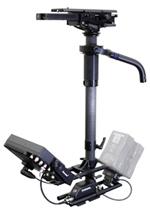 Steadicam Archer2 w/ G-50x Arm
The Archer2 is a professional Steadicam capable of flying today's broadcast television and digital cinema cameras, including the Arri Alexa. The G-50x arm has a boom range of 29″ and can fly a camera payload of 30 lbs. Steadicam requires a skilled operator for the best performance and desirable results.
GrassValley LDX C80 Compact Premiere
The LDX C80 Compact Première is a revolutionary switchable format (1080i and 720p) compact camera — based on the revolutionary LDX 80 Series of cameras — built for business flexibility and operational excellence, with superior imaging, processing and performance. With the LDX C80 Compact Première, you can upgrade, when needed, to the LDX C80 Compact Elite or LDX C80 Compact WorldCam, to add 1080PsF and then 3G, respectively.
Fujinon HA13x4.5BERM w/2x Extender
This wide angle lens is an industry workhourse. The Fujinon HA13x4.5BERM is a 2/3″ super-wide angle lens with 13x optical zoom. The lens comes with a 2x extender for instant telephoto. Known for their high build quality and precision optics, Fujinon lenses have become an industry standard for professional video applications all over the world.
BlackMagic Video Assist 5″ HD & 7″ 4K Monitors
Features on-board recording to standard SD media in various flavors of ProRes and DNxHD. The 7″ model also features built-in full screen waveform, vector, parade and histogram for easy field camera quality control. 3D Luts can also be imported for digital cinema monitoring.
"Throwdown" Video Converters
While actually throwing these converters down is discouraged, they are very handly for field format conversion. Available models are DataVideo DAC-60 and DAC-70 & Decimator MD-LX and MD-HX – Convert signal formats (ex. 1080i to 1080p), or media formats (ex. HDMI to HDSDI).
Web Streaming Encoders & Networking Support
Slice supports bitrates up to 10 Mbps and outputs a variety of stream types, including MPEG-TS, RTMP, RTSP, and RTP Multicast, as well as Teradek's proprietary TDS protocol for ultra low latency streaming. These devices are great for both web streaming and point-to-point applications.
Fiber Media Converters
Media converters act as a bridge between two physical media – generally copper to optical. These devices can be stand alone Ethernet to Fiber or SFP modules for use in switches and routers. We stock both varietals, and both are dual wavelength allowing bi-directional transmission on a single strand of fiber. Use these devices to provide simple data links for equipment control, or for high volume digital media data transfer from one on-site location to another.
Ubiquity Networking Components
Devices from the UniFi, AirMax and Edge product lines provide robust and reliable field performance in an easy to use and deploy package. UniFi systems provide easy to deploy on-site physical and wireless networks; AirMax provide robust backhaul links, and Edge routing provide secure and reliable WAN connections.
Wireless Video Systems
Wireless systems provide amazing flexibility for placement and monitoring of cameras both in live production and location production enviroments.
Teradek Beam Wireless Encoder
Transmitting over the unlicensed 5GHz band, Beam can attain distances up to 2500ft, perfect for wireless cameras in corporate or entertainment settings. Beam utilizes H.264 compression (Main profile) and can stream at up to 15 Mbps over its wireless link with just 2 frames of latency. When connected to a LAN, the device can stream up to 30 Mbps, making it great for a point-to-point link in a building. Wireless camera painting is also possible with cameras that utilize ethernet control systems.
Teradek Bolt Wireless Encoder
Bolt transmits visually lossless 4:2:2 video over the unlicensed 5GHz band at less than 1 millisecond of delay. All Bolt models are multicast capable up to 4 receivers of the same range at the same time. This means you can send your video feed to monitors, switchers, recorders, and more. Bolt supports metadata, timecode, and start/stop flags from many camera manufacturers, including RED, ARRI, Canon, Sony, and Panasonic.
Digital Audio Consoles
Recent developements and innovationds in A/D conversion have allowed the creation of some great sounding, but very compact digital audio consoles.
Behringer X32-Producer
40-Input, 25-Bus Rack-Mountable digital mixing console with 16 programmable MIDAS preamps, 17 motorized faders, 32-channel audio interface and iPad/iPhone remote control. You can easily control every parameter of the mix directly on the X32 PRODUCER using the 800 x 480 graphic UI, but the awesome flexibility of networked remote control literally opens up an amazing world of possibilities. Use our X32-EDIT PC/Mac/Linux application, X32-MIX for iPad, X32-Q for iPhone/iPod touch and X32-Q for Android to control the mix from anywhere in the room.
Behringer X Air XR16
The revolutionary XR16 is a powerhouse 16 input portable/rack-mountable mixer for iPad and Android tablets, and is ideally suited for both live and studio applications, thanks to its 8 award-winning MIDAS-designed mic preamps, convenient integrated Wifi module for wireless control, plus USB connectivity for file storage, system updates and uncompressed stereo recordings via the USB Stereo Recorder.